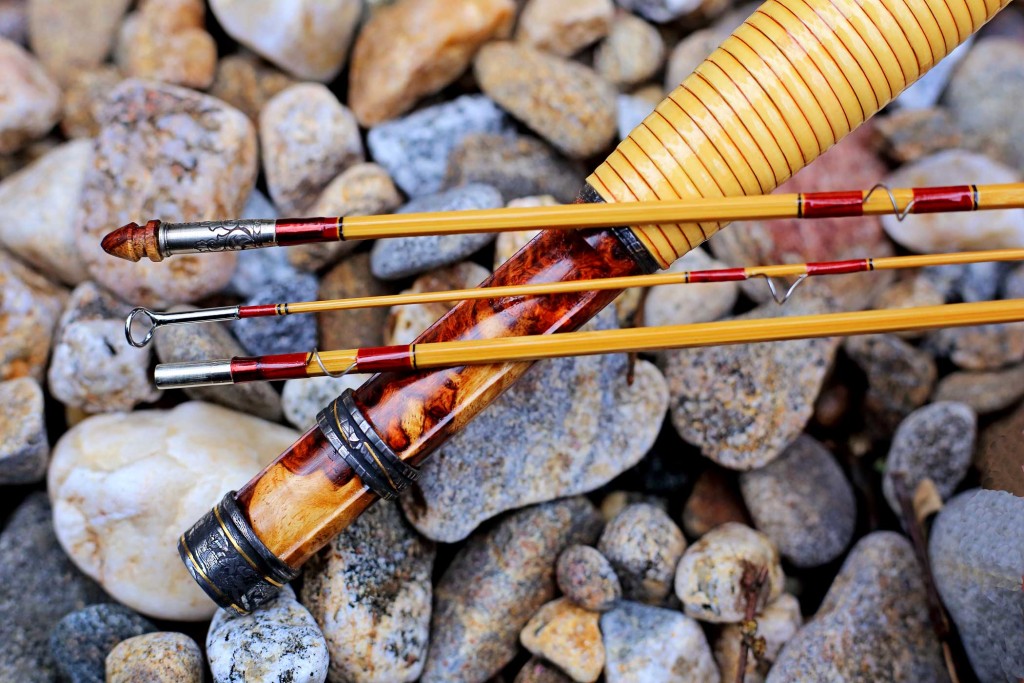 Each rod I make begins with a single culm of select Tonkin cane.  Depending on the customers specifications, the cane is either flamed to a rich dark brown or left "blond" to present a pleasing buttery golden color upon finish.
Customers also can specify grip material, size and shape, as well as guide wrap colors.  I'd love the opportunity to work with you to design your ideal custom made bamboo fly rod.
Rods are available in either a 2/2 configuration (2 that's a two section rod with an extra tip) or a 3 / 2 rods (three sections with an extra tip).
Each rod comes complete with a high quality rod bag and aluminum rod tube to preserve the beauty of your investment for years to come.
Options are available depending upon your tastes and budget.  Please call or email for a current price.
Hollow built blank   Adds crispness and aids dampening of the rod action while reducing the weight of the rod.
Hand Blued metal components.
Rattan grip.   Lends a custom and classic look to the overall rod and provides a durable low maintenance grip as well.
Mortised swell butt.   12 pieces of cane in the swell area instead of the usual six.  Makes for a "faster" feel to the rod action, adds power to the butt section and is a beautiful upgrade to boot.
Custom engraving – Price quoted  on  request.   Available on either, or both reel seat and ferrules for the truly unique one of a kind rod.  We can also add custom engraving to some fly reels to help you complete and total customized package!  Please contact us with your questions and needs.