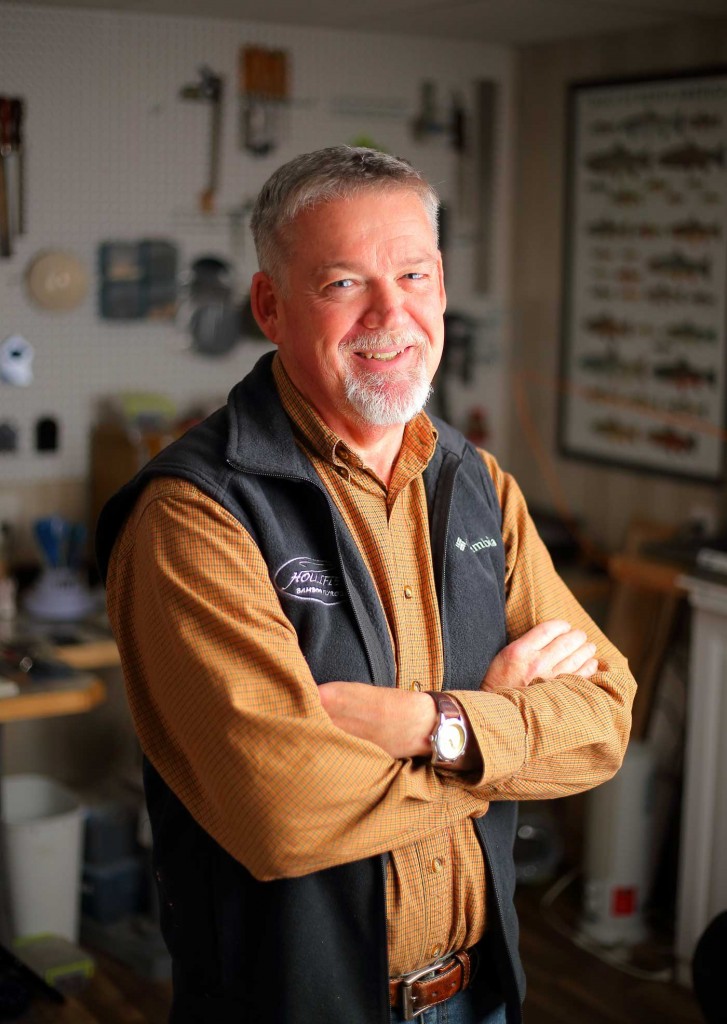 John Hollifield- I had the great fortune to be raised in the mountains of western North Carolina and was  introduced at an early age to the wonders of the local freestone streams by my father.  Together, he and I spent many afternoons and weekends pursuing wild native rainbow, brown, and brook – or as we called them "speckled" trout.  From the beginning, I learned to love and appreciate our time on the water and was drawn very quickly to the fly rod. Our equipment in those days consisted of fiberglass rods, but gifted with a pretty fair imagination and a healthy thirst for reading, I developed a very real interest in more traditional fishing gear.  This led me initially to fly tying.  I tied my first fly around the age of 8 using material from a Noll fly tying kit my dad received as a birthday gift.  He soon learned he lacked the patience necessary to learn the craft, so he passed it down to me.  Fly tying satisfied my creative cravings for many years, but I've always enjoyed using things of my own creation, especially as they pertain to fly fishing.  So, around 1984, I built my first fly rod  from a kit ordered from Cabela's.
Through the years, I made several graphite rods for myself and friends, but I was always drawn by my interest to bamboo.  I made my first bamboo rod in 2011 and since then, have made nothing else.  Something about making bamboo rods quickens  my spirit, much like casting a finely crafted one does for the true devotee.    It  nourishes a creative need in me that began as a child when I caught my first fish on that first fly.   The attention required to produce a high quality rod clears my mind of clutter, petty problems,  and provides a sense of affirmation that I am doing that which  I was meant to do.  I pour a bit of my heart and soul in each rod I make.  My desire is that the result is a fishing tool of beauty that will become my customer's prized possession – a possession  he or she will proudly use for years, before passing it along to the next generation.  It is  my mission to produce only rods of the highest possible standards.
I believe strongly that "Quality requires no apologies."  And the former is much preferred to the latter!
As of April 1st 2014, I retired from a career in manufacturing, to devote my attention to making bamboo fly rods, teaching others how to make their own rods, and I also have plans to do a little more fishing myself as well.  I finally reached the point where I felt I could  follow the advice of  Howard Thurman, as stated in one of my favorite quotes.
He urged –
"Don't ask what the world needs.  Ask yourself what makes you come alive, then go and do that.  For what the world needs is people who have come alive!"
In addition to making custom rods,  I also  teach the process  to others through one – on – one classes at my shop.  I am also available to speak at Trout Unlimited and IFFF group meetings.
I enjoy sharing my love of bamboo rods and how I make them with others! If your group or club would like to have me attend one of your gatherings, please contact me through this web site, or give me a call  to schedule a time.  I'd be happy to answer any questions you may have concerning my rods and services.
I look forward to helping you  acquire your dream bamboo rod. Let's start  designing it today!
Stay tuned for more updates.
Thank you!